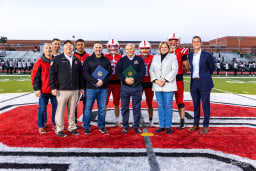 Souderton Area High School proudly celebrated their 100th year of football in fall of 2022. History was a 50-0 victory over North Wales HS on November 2, 1923. That was the only Indian victory of 1923, and the Indians achieved their first winning season in 1935 (4-3-1). 
Souderton won Bux-Mont League championships in 1963 and 1969, then joined the Suburban One League in 1986. The Indians have won six SOL championships, with the most recent one coming in 2020. 
Souderton qualified for the District 1 playoffs for the first time in 2006, earning a 42-14 victory over Downingtown East. Souderton has qualified for the District 1 playoffs eight times and won the school's first District 1 6A title in 2020 over rival Pennridge.
12 different coaches have led the Indians onto the gridiron, with four posting overall winning records (Bill Yoemans, John Meyers, Drew Darrah, and Ed Gallagher). Darrah and Gallagher have each won over 100 games, accounting for 54 combined seasons and over 73% of the victories in school history.
Do you like this post?